Bee suit are essential when working with bees, be it collecting the honey or even a routine visit to your beehive. Beekeeping suits provide a degree of protection and comfort far beyond conventional gloves and veils. While bees are generally less aggressive than other insects, they still have an instinct to attack if they feel threatened. We all can agree that getting stung is not something a beekeeper will look forward to.
With so many beekeeping suits available in the market, one might wonder which bee suit is really THE BEST! It can make buying beekeeping suit a much harder. Therefore, we have compiled a list of the best beekeeping suits out there. Although the coverage of a beekeeping suit is a crucial component, there are other critical factors when choosing a suitable beekeeping suit, such as material, protection level, pockets, and the visibility of the veil.
In short, when buying a bee suit, you should ensure that it provides maximum coverage, offers high visibility, is breathable and lightweight, and has good pockets. Most importantly, it should provide maximum protection against bees. Read our list below and choose the perfect beekeeper suit for yourself!
Product Name
Features
Our Rating
1. Sting proof Bee Suit
· Self-supporting round veil.

· Lightweight and breathable fabric.

· Heavy-duty zippers.

· Elastic wrists and ankles.

· Lightweight foam inserts.

· Multiple pockets.

· Unisex design

4.9/5

2. Ultra-Breeze Bee Suit
· 3-layer design

· Removable fencing veil

· Heavy duty brass zippers

· Lightweight foam insertions

· Elastic waist, wrists, and ankles

· 4 front pockets, 2 leg hive tool pockets

4.8/5
3. Pro-vent Bee Suit
· Made with polycotton

· Collapsible fencing veil

· Heavy duty zippers

· Double stitched pockets

· Unisex design

· Full-face mesh veil

4.6/5
4. Beekeeper Outfit
· 360° mesh veil

· Polycotton fabric

· Heavy duty zippers

· Six double stitched front pockets

· Four ballistic nylon hive tool pockets

· Elastic wrists, ankles, and waist

4.5/5
1. Sting proof Bee Suit
BuzzingBee's Sting-proof Bee Suit is, without a doubt, our favorite beekeeping suit on the list, and for all the right reasons! Incorporating lightweight foam insertions in this bee suit, the craftsmen have ensured minimal risk of getting stung. The lightweight foam not only keeps bees from stinging the beekeeper's skin, but it also keeps them cool in hot summers by allowing adequate airflow.
The mesh veil is easy to remove, making it easier for this beekeeping suit to be washed. The mesh veil is thoughtfully designed with the beekeeper's breathability and exposure in mind, while also offering the maximum level of bee protection. This suit includes a lot of pockets, which is another fantastic feature. The pockets are not only easily accessible but also allow the beekeepers to carry a lot of tools for their beekeeping needs.
2. Ultra- Breeze Bee Suit
Featuring three layers of breathable fabric, BuzzingBee's Ultra-Breeze Bee Suit for sale is not only lightweight but offers just the essential feature that the name indicates; breathability. This Ultra-Breeze Bee Suit has been crafted, keeping in mind the convenience of the beekeepers. For this purpose, this suit includes zips along both legs, allowing beekeepers to wear the suit and take it off with ease!
Three layers of absorbent material make this Ultra-Breeze Bee Suit perfectly cool by providing sufficient ventilation and airflow and enabling it to release heat instead of absorbing it in the warm season. A detachable fencing veil comes with this outfit, which has a wide span for good visibility. It also boasts some additional protection features such as elastic waist, wrists, and ankles, with elastic ankles featuring an adjustable opening.
3. Provent Bee Suit
It is safe to say that BuzzingBee's Provent Bee Suit outshines all competition in the market in terms of value for money! BuzzingBee's Provent Bee Suit has been created with lightweight poly-cotton keeping in mind the beekeeper's flexibility and comfort. As a result, the suit provides maximum protection while remaining lightweight and comfortable to wear!
The mesh in the veil is extremely fine, allowing for both breathability and unobstructed vision. The mesh fabric veil is wide enough to provide a full span of view. When beekeepers crouch down to work, the cushioned kneepads protect their knees from abrasions and irritation, allowing for greater flexibility. The elastic ankles and wrists prevent unwanted bees from entering the suit, and a durable elastic waist provides an excellent fit!
4. Beekeeper Outfit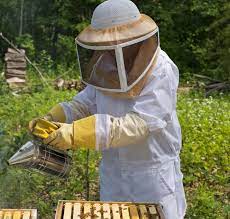 Made with the finest poly-cotton, BuzzingBee's Beekeeper Outfit is nothing short of a marvel. It features a 360° veil made with mesh for an unobstructed view. It also enhances the breathability of the veil, making it more suitable for hot summers. The poly-cotton suit is made with a meticulously designed interlocking pattern that provides maximum protection against bee stings, all the while enhancing the suit's breathability.
The poly-cotton fabric is not only kinder on the beekeeper's skin, but is also an extremely robust fabric that protects beekeepers against the worst of bees. The breathable fabric allows working in hot temperatures without scorching the body. Elastic waist, ankles and wrists prevent the sleeves from rolling up, and minimize the risk of any unwanted bee entering the suit. The outfit features ten pockets, comprising six double stitched front pockets, and four ballistic nylon hive tool pockets.
Contributed by: Natural Pest Solutions- Foremost Experts in flying insects and how to deal with them.